Get Answers to Frequently Asked Questions Here
1. What is the best way to get to Elk Creek Resort and Marina?
Google is great most of the time, but for smooth travels, keep this map handy once you get to Highway 82. Just right click on the image and save in / save to your phone
NOTE: We are on the EAST side of the lake, just south of the major bridge that crosses the North end of Tenkiller.
From Highway 82, turn West off of 560 Rd. – On the South Side of Flintridge Grocery and Gas, and across from Princess Restaurant.
You will also see a sign that says Whitetail Run.
Follow the Road West for about half mile and it will open into the Resort!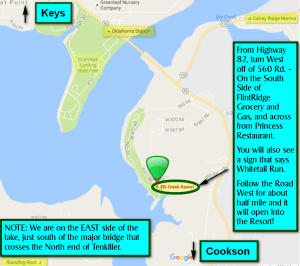 2. What are the things to bring to make it my / our best vacation or staycation ever?
Elk Creek Resort provides well equipped cabins with blankets, towels (for cabin use only), serving utensils, etc. There is a cove for the kids to frolic in, a dock for (limited) temporary boat access, a deck to lounge on, and of course the cabins for gathering to eat, sleep, etc. Things that you want to consider bringing for your trip:
Water Shoes

Charcoal

Beach Towels

Sunscreen

Bug Spray

Children's Safety Vests

Fun Float Devices
3. What Do People Do At Elk Creek Resort?
Here is a popular list of activities to consider for Lake Tenkiller. Keep in mind that several of these activities include some type of equipment or lake "toy" that you may want to acquire before your trip…
Camping

Fishing

Cliff jumping

Wakeboarding

Tubing

Skiing

Paddleboarding

Kayaking

Boating

Swimming in the Cove